Episodes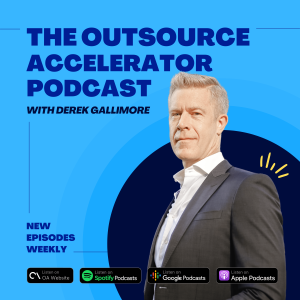 Thursday Sep 22, 2022
Thursday Sep 22, 2022
Outsourcing podcast

Get the full show notes for this outsourcing podcast here:
outsourceaccelerator.com/405
Outsource Fiji
Derek Gallimore talks with Sagufta Janif, the executive director of Outsource Fiji.
Outsource Fiji, the larger organization behind the Fiji BPO Council (BPOC), is Fiji's industry body that provides guidance to and ensures continuous development of the country's business process outsourcing (BPO) industry.
The organization markets Fiji as an outsourcing destination for investors; it also ensures the protection of its clients and the country's viability, reliability, and conduciveness for outsourcing.
The Outsource Accelerator Podcast features Sagufta's outlook about outsourcing in Fiji — how the pandemic has affected it, how it has affected the country, and what the future holds for the industry.
In this episode, Derek and Sagufta discuss the future of Fiji's BPO industry, touch on its present state, and look back at how it all started.
References:
Website: Outsource Fiji
Email: Sagufta Janif
LinkedIn: Sagufta Janif
Start Outsourcing
Outsource Accelerator can help you transform your business with outsourcing. Get in touch now, or use one of the resources below.
Business Process Outsourcing
Get a Free Quote - Connect with 3 verified outsourcing experts & see how outsourcing can transform your business
Book a Discovery Call - See how Outsource Accelerator can help you enhance your company's innovation and growth with outsourcing
The Top 40 BPOs - We have compiled this review of the most notable 40 Business Process Outsourcing companies in the Philippines
Outsourcing Calculator - This tool provides you with invaluable insight into the potential savings outsourcing can do for your business
Outsourcing Salary Guide - Access the comprehensive guide to payroll salary compensation, benefits, and allowances in the Philippines
Outsourcing Accelerator Podcast - Subscribe and listen to the world's leading outsourcing podcast, hosted by Derek Gallimore
Payoneer - The leading global B2B payment solution for the outsourcing industry
About Outsource Accelerator
Outsource Accelerator is the world's leading outsourcing marketplace and advisory. We offer the full spectrum of services, from light advisory and vendor brokerage, though to full implementation and fully-managed solutions. We service companies of all sectors, and all sizes, spanning all departmental verticals.

Outsource Accelerator's unique approach to outsourcing enables our clients to build the best teams, access the most flexible solutions, and generate the best results possible. Our unrivaled sector knowledge and market reach mean that you get the best terms and results possible, at the best ALL-IN market-leading price - guaranteed.